Can I withdraw Using Bitcoin?
If you wish to receive your winnings via Bitcoin, Slotastic is happy to send your your funds using this online payment option. To make a withdrawal using Bitcoin, please follow these simple steps:
1. Choose an online Bitcoin personal wallet (we recommend Blockchain). Kindly note that most wallets require identification documents for deposits and withdrawals.

2. In your Wallet click on 'Request' and copy the provided Bitcoin address.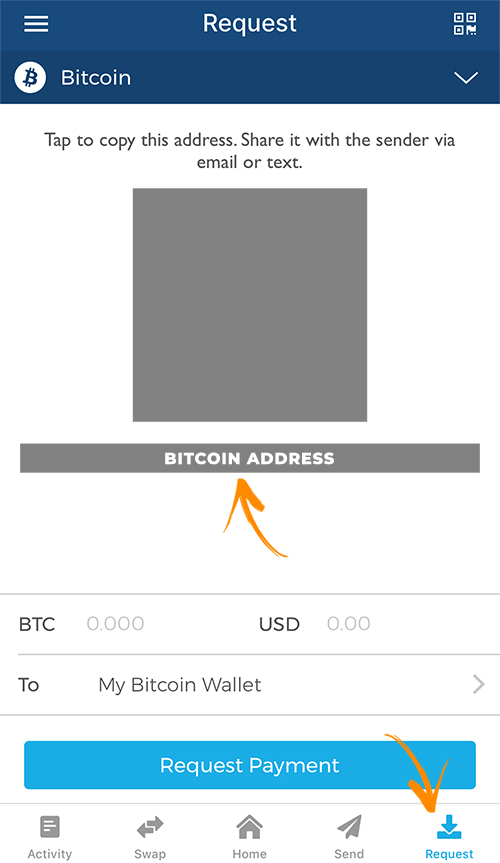 3. In the Slotastic cashier, enter the desired withdrawal amount and selection 'Bitcoin'.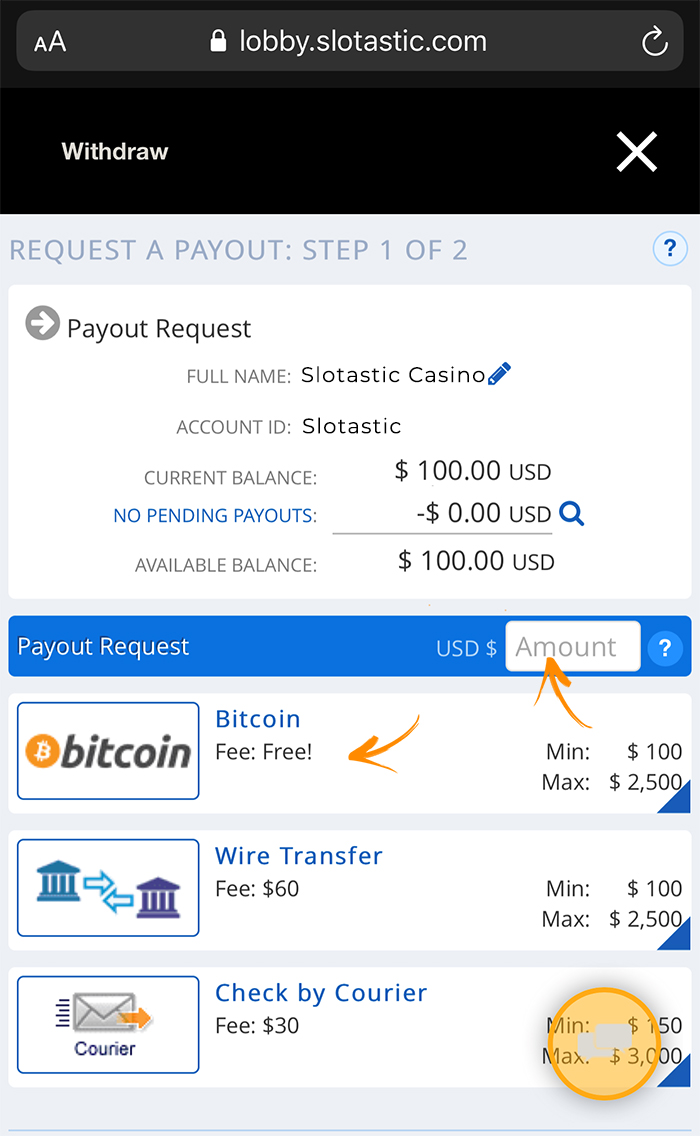 4. Paste the copied crypto address in 'Payout Details', add a comment if need be and finish by clicking on 'Request Payout'. After a short processing time, you will receive your funds almost instantly.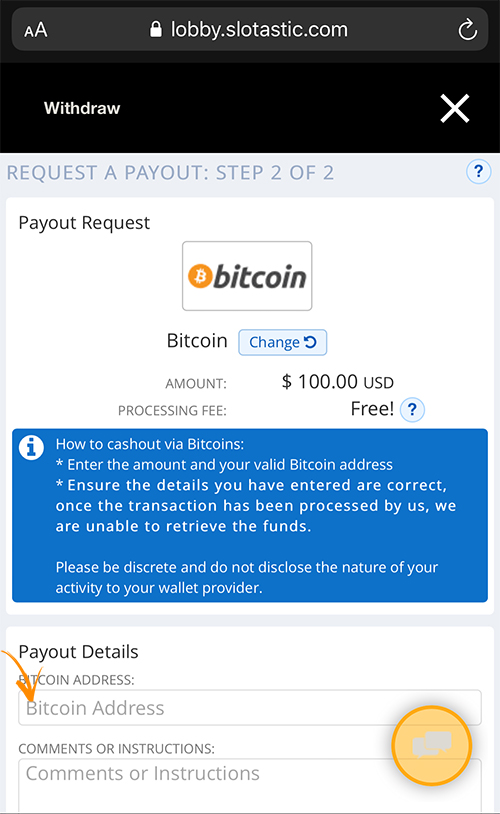 If you've completed all of these steps and still require assistance please contact a Slotastic Representative, they will be happy to guide you through the Bitcoin withdrawal process.
Was this information helpful?
How can I obtain Bitcoin?
If you don't already hold any Bitcoins, you can choose the following ways to obtain Bitcoins:
Through an online wallet/exchange (recommended option: Blockchain)
Bitcoin ATM (Find here)
From a local seller
CREATING A BLOCKCHAIN ACCOUNT
We highly recommend creating an account at Blockchain, as it is one of the most reliable wallets. Kindly note that documents for account verification are required, so you'll need either a valid passport, national ID card, residence card or a driver's license.

Once you are logged into your Blockchain account, please check if it is possible for you to buy Bitcoins directly within your wallet. To do so, click on 'Buy & Sell' on the left-hand side on desktop, or 'Get Bitcoins' within the mobile app. Here you can obtain Bitcoins simply by using your credit card (bank transfer is also available).

If you do not have this option available within Blockchain, we recommend buying Bitcoins through an exchange (example: Cex.io or Coinbase). Once you have obtained Bitcoin through an exchange, please send it to your Blockchain wallet. Most of the US exchanges/wallets are not friendly towards gaming activity. Please do not disclose your gaming activity to your wallet/exchange provider.
Was this information helpful?
How can I deposit my Bitcoins at Slotastic?
Depositing with Bitcoin at Slotastic is easier than you think! Follow these easy steps below to start funding your Slotastic account today. For funding your Slotastic account, we highly recommend using the Blockchain wallet.

1. When logged in to Slotastic, choose the 'Deposit' option from the menu and then select 'Bitcoin'.

2. Enter your desired deposit amount (minimum $25), then select 'Next'.

3. Click on the long number underneath 'Pay With Bitcoin' to copy the Bitcoin address.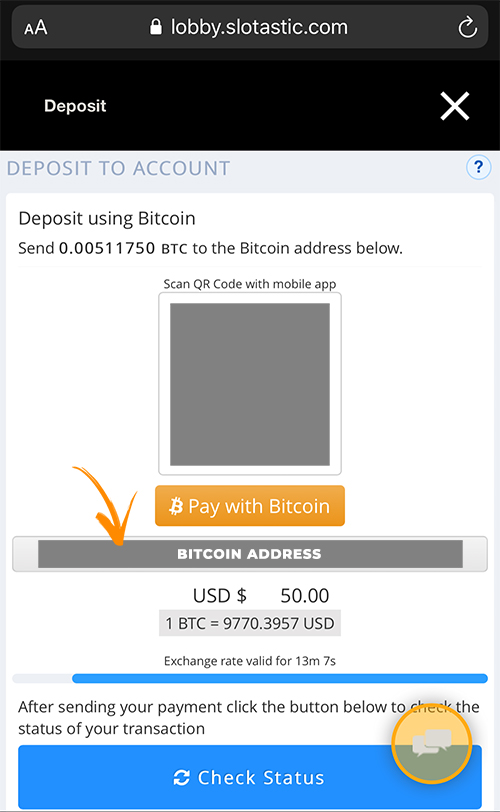 4. Go to your Blockchain wallet and select 'Send'.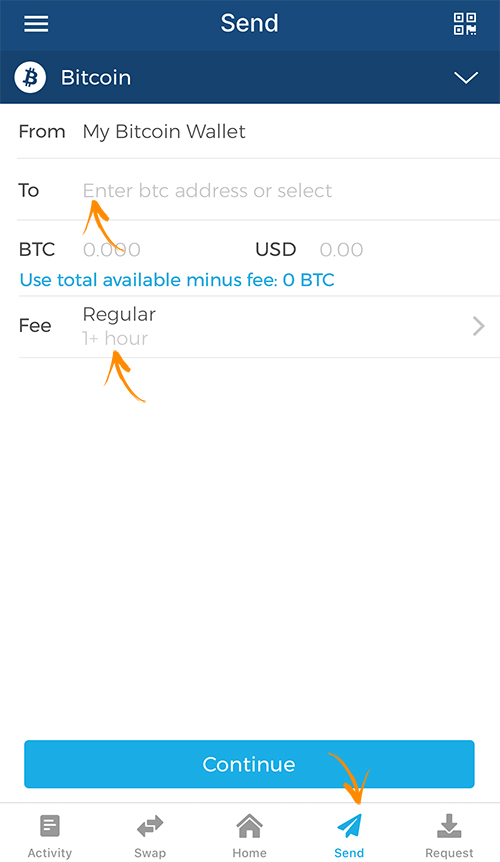 Paste the copied Bitcoin address inside the 'To' field
Enter the amount you wish to deposit (the same amount you entered in the Slotastic cashier)
Avoid mentioning any gaming activity in any comments or descriptions
In the 'Fee' selection, we recommend choosing 'Priority' as your transaction will be processed quicker
Once you've confirmed and checked all of the details, click on 'Continue' to finalize the transfer
5. Return to the Slotastic cashier and await for your deposit to appear onto your Slotastic account. Your Bitcoin deposit should be available in no time, however, you can track the status of the deposit by going to the 'Check Status' button.

If you've completed all of these steps and still require assistance please contact a Slotastic Representative, they will be happy to guide you through the Bitcoin deposit process.

Slotastic also offers an exclusive Bitcoin welcome bonus for new Bitcoin depositors.
Was this information helpful?
Does Slotastic accept Bitcoin?
Yes, you can deposit and payout using Bitcoin at Slotastic, it's one of the safest processing online payment methods we offer. In addition, only a small fee is applied to every transaction, and you can deposit as little as $25 into your Slotastic account.
Was this information helpful?
What is Bitcoin?
Bitcoin is a digital currency that you can use to fund your Slotastic Online Casino account. It uses peer-to-peer technology without a central authority or physical bank.

Follow the instructions on our page and you will be able to start funding your account with Bitcoin in no time. Low fees and high security will get you straight to your favourite games seamlessly!
Was this information helpful?