Entering the Slotastic Lobby Jackpot is easy peasy, lemon squeezy! You don't have to do anything special or enter any kind of code. Simply go to the 'Opt-In' button highlighted yellow in the Lobby Jackpot area of the main Slotastic lobby and you're good to go.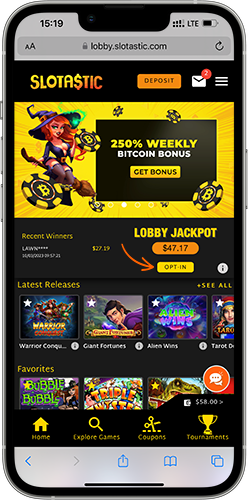 Then, simply play any of our slots and with every wager you place an additional contribution of $0.01c will be deducted every spin to contribute to the Lobby Jackpot prize pool. Every bet you make contributes to the pot, so the more you play, the higher your chances of winning. And don't forget, the Lobby Jackpot can drop at any time, so you never know when your luck might strike! So go ahead and start playing your favorite online slots at Slotastic, and who knows, you might just be our next big winner!

Easy Steps to Enter the Slotastic Lobby Jackpot:

1) First, make sure you have an account with Slotastic Online Casino.

2) Next, log in to your Slotastic account.

3) On the lobby home page, go to 'Opt-In'

4) Play your favorite slots - each spin will contribute $0.01c to the Lobby Jackpot prize pool

5) As soon the Jackpot reaches its limit, it will go off randomly and reward a lucky player with prizes up to $100
---
Want to talk to a Slotastic Representative?
If you can't find your answer in the Slotastic Help Center, chat now with a friendly Slotastic Representative.