Fish Catch is a completely new gaming experience so we understand there might be some questions, we hope to answer them all in this guide.
Fish Catch is a multiplayer game where a maximum of four players can play at one time. The purpose of the game is to shoot as many fish as possible during the six-minute round, with the main goal to score as many points as possible to beat your opponents.
HOW TO PLAY FISH CATCH SHOOTING GAME?
When in the Fish Catch game lobby to begin your first game you will need to choose your shot value. This is the price for every single ammunition fired at the fish during gameplay and you can choose between the following values: $0.01, $0.02, $0.10, $0.50, $1.00 and $2.50.

During gameplay you can increase your original shot value by upgrading your weapon, each weapon has a different bet multiplier and the higher the bet value the greater the damage. In the top-right corner, you can see your username, along with the total amount won so far, as well as the remaining number of shots you have left with the current ammunition chosen.
You can rotate between rooms by selecting the boxed areas in the right-hand corner of the game, this will help you to move closer to special fish instead of waiting for them to appear in your room. However, if there are other players in the other rooms you won't be able to move to that room as only one single player is allowed in a room at one time.
HOW TO WIN PLAYING FISH CATCH?
The aim of the game is to get the higher score to defeat your opponents, you'll need to play with strategy to target the fish with the higher payout values to make your shooting worthwhile. The top winner of the round will also receive an additional 0.2% of the total bets made during the completed game round. Look out for the Mermaid's Luck Feature during gameplay as this can be triggered randomly at any point during the game. During this feature, you can spin the wheel of fortune to multiple your next win!

We recommend to read the controls and elements below, this will help you understand the interface of Fish Catch and help you navigate your way through the game.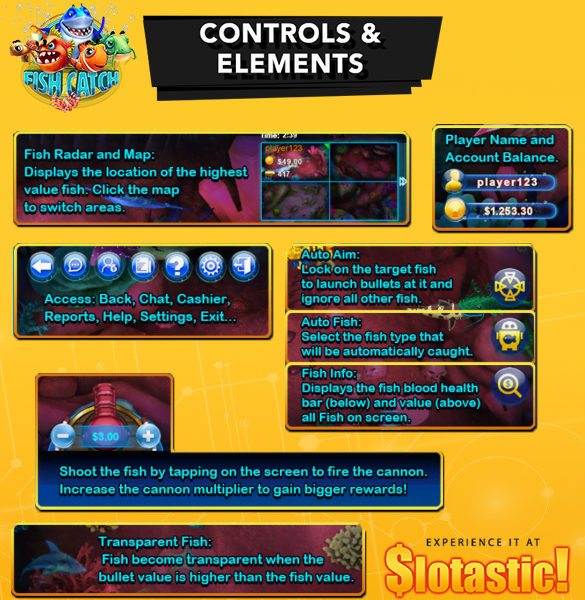 If you still have any questions regarding Fish Catch or anything else Slotastic related, please contact us anytime via live chat or e-mail and either Botastic or a Slotastic Expert will be happy to help.


Was this information helpful?
---